"We are amazed at the warmth and truth that you capture. It sure helps to look at it and realize our divinity wherein all of the outer trappings just fall away like rain. Eloryia has genuine insight that truly captures the soul essence of those for whom she reads. Her talent is multifaceted and many shall certainly grow from her beautiful artistic portrayal of our soul paths. She is a true light and blessing in our world." Janet and Jack Faubion


Enlightening and Healing Testimonials

Combined Aura Portraits to Shift Your Stuck Relationship

Your Combined Aura Portrait with full interpretations is just the first step of returning to seeing yourself and any other individual through the eyes of understanding love.

In addition to helping serve your individual shifting and unfoldment into the realization of your Divine Magnificence, your Combined Aura Portrait is the first step to a life altering effect on the person you are in relationship with and theirs on you.

The aura portraits are a wonderful venue for seeing through your transferences and projections; As we gaze upon the inner magnificence of the person who sometimes triggers us, it can help us see thru and thus drop our projections.


Have one created for the two of you together so you can see clearly your individual unique Divine Magnificence coupled in a healthy whole partnership guided towards abundant prosperity of all good things or have one created for you and/or for them by choosing an individual portrait, to shift the focus on each other to an elevated existence of love and harmony.


Your second step is to Follow up with private Guidance sessions and or workshops that will provide you with the practical everyday tools on how to return to and remain in love; so you can create a healthy prospering relationship with your primary partner and/or the other people who are most important in your life.


Arouse and Reawaken your Desire to Live and Love Again Personal Guidance and Workshops

Eloryia offers personal guidance for an individual and/or to couples; as well as to a combination of any two individuals who are desiring to re-awaken and arouse their relationship to one of living love. Having a portrait created is not necessary in order to participate in the personal guidance program and or one of the workshops. Although the combined aura portrait is extremely helpful in the realization of the higher soul truth of each individual, as well as the combined soul energies and their sacred contract here on earth.

The month to month guidance sessions will provide you with information and tools on how to shift your relationship with your apparently difficult PARTNER, child, parent, employer/employee or anyone else you care about.

This personal guidance, offered on a month to month basis is designed specifically for those of you who are having difficulty in your relationship with someone, and who REALLY intend to shift from angry resentment and projected blame into the peaceful loving, resolve of higher understanding for self, one another as individuals and for your combined sacred contract. You are not obligated in any way to participate in ongoing monthly sessions; as Eloryia will use all of her gifts, wisdom and experience to assist you in reaching your goal as fast as possible. It is up to you how fast you wish to accomplish your goal.

Monthly private guidance sessions consist 4 consecutive weeks of a 1 to 2 hour phone session, where issues can be voiced and heard and resolves can be found within higher understanding non-threatening guided visualizations.

These visualizations also provide empowering practical applications and methods for each individual as an "in the moment resolve" for day to day use when any difficulties may arise, not only in the interim between weekly sessions, but forever.

You have access to Eloryia by email throughout the week for further clarity on anything discovered, including the applications and or methods during your phone sessions.

Don't give up...there is always hope, especially when self-responsibility is owned and applied. You can shift your stuck relationship and return to living in peace, harmony and love!

Begin to shift your stuck relationship today!


"Eloryia RA has genuine insight ! Her talent is multifaceted and she is a true light and blessing in our world. Janet Faubian, Metaphysical Minister"
Psychic - Intuitive
Transformation Life Coach
Radio Host
Published Author
Retreat Facilitator
Workshop Leader
Emotional Release Therapist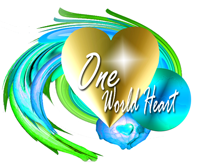 One World Heart - Help A Child!