Eloryia Law of Abundance Spiritual Transformational Life Coach, is dedicated to the mission of guiding you in applying The Laws of Attraction to assist you in creating the life you desire including prosperity in love, finances and health.

Our mission in life is not to conform to things, as they appear imposed by family or society, but to be our divine magnificence by expressing what brings us joy in any given moment. This is the catalyst to shift our conditioned reality that causes us to manifest lack of all wonderful things, to be in harmony with our highest soul intention to realize and live Heaven on Earth.

We are to individually step up into the integrity of our highest authority and creative expression; and from this, to bring forward new passages, blueprints and road maps by unconditionally loving and living our super consciousness.

Eloryia playfully shares her wisdom, (knowledge gained through experience) of the universal laws of ONE; as she facilitates you to return to the greatest and truest love, the love of self. Where you are free to express your greatest and most joyful expression and be supportive for all others to do the same.

For many years Eloryia has been referred to as the "Angel Lady" as a result of her devotion to assisting each and every individual she encounters to realize, accept and enact their Divine Magnificence.

In Eloryia's many years of mentoring, she has found the biggest obstacle to staying focused on to create what you want, is directly related to the underlying core issue of the illusion of separation resulting in forgetting your divine magnificence. Not knowing your true value causes a crippling belief of being unworthy and results in a life that lacks all wonderful things. Most individuals, despite what they proclaim aloud, or how they physically appear, have yet to realize they are divine magnificence and their own true love and more than deserving of a thriving, lavish life.

She expertly and lovingly guides you to release old emotional pain to raise your consciousness from what you previously perceived was done to you, to the greater understanding of what was divinely orchestrated for your highest good.This overturns the erroneous belefs of being "less than"; as well as releases stagnant emotions that contribute to manifesting more of what you do not want.

With her life liberating applications and modalities, she will gently and safely guide you on a magical journey to open your heart, mind and soul, forever leaving behind your fears that have kept you prisoner from moving forward with your joyful life intentions.

Her work engenders a true sense of faith and trust while rendering an authentic, effective and successful change with those who engage her services.

The world as it presently is, is nothing more then the changes we have all been awaiting. We as the inhabitants of the beautiful mother earth are collectively shifting from the lower levels of fear into the divine magnificence of the highest vibration of love.

The time is now to change individually so we may collectively reside in Heaven on Earth where we consciously follow our hearts to a live each moment supported by our super consciousness and is in every moment full of abundance of peace, love, joy, health and well being for all.

You will be inspired, encouraged and supported in your development, as Eloryia's goal is to help you become a whole, self-confident, self-trusting, heart centered individual who is clear on what you want and courageous in taking the necessary steps to accomplish all your dreams.

It matters not whether it is your personal or business life, with Eloryia's guidance and coaching, you can personally overcome this perceived economic crisis and be able to manifest all of your dreams.

You will learn to live in a state of love rather than in conditioned fear. You will know beyond a shadow of a doubt, that "being in Love" as opposed to "being in fear", will plant you firmly in the present moment where you will find the freedom to do what if right for you. You will know that absolutely anything you can dream of is possible to manifest into your everyday life.

For many years Eloryia has mentored and successfully guided hundreds of individuals to Live in Heaven on Earth, (Ascension) through the simple process of changing your attitude to "state of love" from a "state of fear".

Eloryia's focus when working with you... is you! She is dedicated to helping you have the life you have always desired.

Intuitive readings are similar to an energetic diagnosis. They reveal the truth of you; thereby determining who you are authentically, the soul, the spirit of you, as well as what needs healing within you. With this important information regarding self, coupled with the application of the right modalities for you, you will become confident in being yourself rather than continuing in the old behavior of enacting someone you have been conditioned to believe you are.

Once the diagnosis is made, you may then move into the life altering coaching techniques as they specifically work for you. This may include many different modalities, including a very practical immediate prosperity program which will assist you in, getting your creditors off your back and learn to peacefully put aside the other everyday issues that keep you distracted from your higher purpose.

You will learn to take the time necessary to focus on you. The important part is that each and every modality is applied so it works for you the individual.

Eloryia's personal Transformation Life Coaching is effective, as it may contain one or more of the steps in the Ascension Magnificent Me Program as they may apply to you.

You will become aware of and learn how to use the tools that work best for your liberation; to transform the negative of who you are into the positive of who you are.

You can also get help for your children as well as your pets.

You no longer have to live how many are currently choosing; in crisis and panic expecting the other shoe to drop at any moment. You do not have to participate in the belief that you will lose everything, simply because the world is changing. The help you need for spiritual health and real wealth is available to you.

You are not alone, there are many currently in need of help. Her service is about guiding you to view and make sense of your life because you need help for spiritual health & wealth from a Higher spiritual perspective, which is often different from a physical, day-to-day perspective.

It is a positive, creative approach and is designed to coach you to turn life's "adversities" into valuable transformational tools. In addition to this, it's about assisting you to tune into your own inner guidance so you may begin to find the answers you seek, thru your inner authority and in so doing, fulfill your life purpose and manifest your dreams.

Eloryia accomplishes all she does through the beauty and grace, of the Goddess, the wisdom of the God, and the playful innocence of the child within. She has helped many throughout the world, who just like you need help for spiritual health and wealth , as well as realizing your true love.

An agent of unconditional love, Eloryia will facilitate you as she has facilitated private and or group sessions and for the past 30+ years. You can be advised and/or mentored, as hundreds of national and international clients have already.

The benefits are many:
A healthy physical body
A peaceful mind
An open loving heart to find your True Love
You will be your own Divine Authority shining with all your Magnificence!

NOW is the time to get help for your Spiritual Health and Wealth!

You will be personally guided by phone consultation and email with Eloryia and will be given and facilitated thru many different techniques/modalities to realize your goals and dreams.The monthly guidance Program for Health and Wealth, consists of 4 consecutive weeks of instruction and interaction with Eloryia. It is most important that the sessions be consecutive weeks to have a successful effect on your change. If you are not prepared to do 4 consecutive weeks, then it is suggested you not begin until you can. For a better life request a free consultation. Free Consultation For
Life Liberating Guidance


You will learn how to live in the moment and to make choices large and small by listening to your own inner authority of your heart. You will clear all mental and emotional blocks that keep you from moving forward with full faith and trust in self.

Eloryia will personally guide you to your wholeness by realigning and reconnecting your 13 strand matrix, which will then fully activate your light body, your higher mind and your universal heart, enabling you to express your Divinity, the Oneness of the God/Goddess/Child within and to realize Heaven on Earth in each and every moment. As a result, you will become your authentic self, doing only what is right for you and prospering abundantly in all things, with ease and comfort in beauty and grace and without any old behavioral guilt or shame.

You will be guided to:

Being fully conscious of "HOW TO" stay in the present moment, the "NOW" by releasing the past through higher understanding, and learning specific techniques of how not to project any thought or image into the future other than what you truly desire to manifest.

You will learn methods to acknowledge, forgive and release suppressed emotions, and deep core issues, embedded within your molecular structure, which keep you from being the divine magnificence you are! i.e. Doing what is best for you, rather than what you perceive you are obligated to do for another/s

You will gain your personal freedom to be yourself through resolve and closure of old abuse and/or trauma behavior.

Together we will discover your highest individual healing techniques/modalities necessary to clear blocks so you may realize your dreams and you will be lovingly facilitated in applying all your personal techniques/modalities.

During this guidance you will also retrieve fragmented soul aspects, which are the parts within you whom keep you from having all you desire.

Awaken your Heart Song and The Freedom to be your authentic self, realizing all your heart's desires and life's complete intent. This alignment process resulting in your mastery will also unify the God/Goddess within you, which will free the unlimited childlike essence you are and then attract to you the outward manifestation more commonly known as your "Twin Flame".


"Eloryia RA has genuine insight ! Her talent is multifaceted and she is a true light and blessing in our world. Janet Faubian, Metaphysical Minister"


Psychic - Intuitive
Transformation Life Coach
Radio Host
Published Author
Retreat Facilitator
Workshop Leader
Emotional Release Therapist



Transformational Healings
Half Hour Reading
One Hour Reading
Life Liberating Transformation Life Coaching
Free Consultation For
Life Liberating Guidance
Personal Monthly Guidance Program for Complete Prosperity, Healing of the emotional and mental bodies to shift being stuck into realizing full Wealth on all levels. Includes a 1 hour phone session each week for 4 consecutive weeks, as well as email support between consultations. Once your payment is received, Eloryia will email you to begin your program. This Monthly Guidance Program can be a follow on from your reading and/or aura portrait or other transformational healing sessions, or you can just begin the program without participating in either.

"I have personally witnessed the quantum leap of consciousness and life altering changes in myself and my clients. Our particular team of Light Connectors, responsible for following and sharing with each other and many others, the long held mystery of the Secret, intend to accomplish the phenomenal task of raising the consciousness of the entire planet by assisting you and or your group. I lovingly invite you to take the empowering steps of realizing your Divinity and enacting the most magnificent person you already are!" Eloryia

"Thank you so much for this healing process. The exercise we did today was so powerful and I feel so empowered. You are so gifted and I know that with all my experiences I too will make a difference in someone's healing. I can feel the energy shifting within me. You are a blessing. I am ready for this...I am done with surviving and I am ready to LIVE!!!"

"Greetings to you to Eloryia - You are a beautiful soul - looking at your picture on your homesite - the light in your eyes are shinning so bright and with so much love....thank you so very, very much for sharing your gifts with me - you are a gift and blessing to this world, and I feel that everyone who gets in touch with you will benefit from it. It touched me deep within and I felt the love in my heart coming to me from your words - I simply just knew inside that every word you have been writing to me is the truth"

"To wake up to such a beautiful response brought tears to my eyes and will be the source of reflection for days to come. I felt your love right through the energy in your words. Thank you for sharing your gifts with me. I will do my mantras and I am ready; I will take action. "Money comes to me as easily as breath. It is a natural flow, in and out, in and out. Love Needs No Shields".....Love is the Shield......Breathe in the Love. This has moved me. Thank you." Peace & Blessings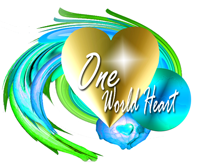 One World Heart - Help A Child!