&" We do not believe in ourselves until someone reveals that deep inside us is something valuable, worth listening to, worthy of our trust, sacred to our touch. Once we believe in ourselves we can risk curiosity, wonder, spontaneous delight or any experience that reveals the human spirit." -E.E.Cummings.

Greetings beloved magnificent beings! You may be thinking she can't possibly be speaking to me; yet I am because I know you have inherent value. You are already divine magnificence, you only need to claim and unleash it to realize your dreams.

Are you facing
Life changes and feeling lost or confused about which direction to focus on
Are you concerned with finances
Are you feeling unsupported
or are you simply needing a little clarity

Are you struggling with
Self-worth
Self-love
Self-doubt


Are you often not acknowledged by others no matter how good hearted you are?
Are you fearful of not being accepted if you dare to be yourself?
Do you feel guilty or shameful if you do something for yourself?

Would you like a clearly defined Road Map to escape your present conditions of merely existing in a life that doesn't match your dream or feel joyful ? One that will safely and lovingly navigate you to your desired intentions.

If you answered yes to any of the questions above and are tired of not having what you want...you can

Leap into the Life of Your Dreams with Life Liberating Guidance to Transform Your Life forever for the better.

You have landed in the right place and I can help you. I am an intuitive transformational life coach with 30+ years experience who can assist you; if you want to transform your life by getting out of the painful, passionless rut you have found yourself in for whatever reason. I am mastered at pinpointing your problems and providing easy and practical solutions; so you can gain and keep peace of mind and a happy heart; by being mentally, emotionally, physically and financially supported in having time for yourself to follow your heart to do the things that are right for you!

Get the genuine help you deserve! As an intuitive pyschic, specifically a Clairsentient (clear feeling) I have the ability to feel strongly and sense the emotions and feelings of people, animals, spirits, and places around them. I can feel emotions of others both in your heart and in your body; I can feel spirits around you. I can give you spot on accurate guidance to assist you with moving through your self-doubting, mentally confusing and emotionally roller coaster experiences. You can get started now with a reading for fast answers. Or a more indepth guidance program to help you with whatever is bothering you or standing in your way of being at peace and feeling good. Obtaining anything you deem wonderful is not meant to be difficult. It should come to you easily. Schedule your appointment today!

Half Hour Reading One Hour Reading

As an intuitvie life liberating coach or mentor; you can receive even greater support!

You may already be prepared to listen to one of the many free webinars offered to help you discover the three common reasons why you don't have the life you dream of. The webinars outline how you can be rid of your paralyzing fear; that causes distressing mental, painful emotional, unhealthy physical and unfulfilling spiritual existence; plagued with lack and limitation.

You can discover how to claim and unleash your abilities to be a conscious purposeful creator; who manifests a lavishly joyful life; with long lasting results.

Attending a free webinar can open the door to your long sought after transformtaion. You can register now for the upcoming free webinars and get a free gift to boot; that is designed to give you some immediate assistance to finding peace of mind, a happy heart and a strong vibrant body.
Register for Free Webinar and Download Your Free Gift

You Can...

Reach your goal of honest, respectful, loving relationships, abundant finances and mental and physical health.

Disappear your perceptions of abandonment and betrayal; rooted in the illusion of separation.

Know and trust your intuition; lovingly supported by a prosperous universe; so all matters can and will go right in your life.

Land the job you crave, or find a clear entrepenuerial path to monetizing your precious gifts and talents.

Understand how to use your energies to manifest all of your dreams; creating a Heaven on Earth; unique and befitting of your radiant Divine Magnificence.

In this moment stay calm and reach for the clarity that comes from lovingly attending to you. NOW is the time to receive guidance; to be aware of, acknowledge and accept your Self-Mastery of Ascension; where you design and create your own unique Heaven on Earth!

The meaning of life is to be your authentic self and know your gifts.The purpose of life is to give it away.

Self-Mastery empowers you with peace of mind, a strong healthy body and a happy heart! You can have it all right here and right now both in your personal life and business ventures. Your transformed painful past can be extremely beneficial to many others; get direction on how to live your purpose, monetize your unique gifts and talents to transform others around the world.

An intuitive psychic reading will get you the immediate answers you are seeking.
Half Hour Reading One Hour Reading

An aura portrait or vision quest portrait is far more comprehensive and will give you greater depth on your true worth, and how to be aware of, acknowledge and accept your valuable authentic self. You will know how to express your precious energies and utilize your dvine gifts. You will gain a clear understanding of your life lesson and know your soul mission.
Aura Portrait Vision Quest Portrait

Either will also prepare you for the transformative advanced Ascension Life Liberating Guidance Program. All are designed to help lift you from your painful past and literally leap into the life of your dreams; by setting you free from all you do not want. Any will help set you firmly on a direct path to find, claim and unleash the real you; who will obtain all you desire.
Ascension - Magnificent Me Guidance Series Details

Your transformation coach; Eloryia RA has 30+ years experience. Her expertise has successfully assisted hundreds worldwide. She is ready to guide you to your desired outcome. You will be lovingly inspired, encouraged and supported in realizing your self-mastery; a whole, self-confident, self-trusting, heart centered individual. One who is clear on what you want and courageous in taking the necessary steps to realize your greatest potential to accomplish all your dreams.

Our mission in life is not to conform to things, as they appear imposed by family or society, but to be our divine magnificence by expressing what brings us joy in any given moment. This is the catalyst to shift our conditioned reality; causing us to manifest lack of all wonderful things.

We are meant to be in harmony with our highest soul intention; to create and live Heaven on Earth.

We are to individually step up into the integrity of our highest authority and creative expression; bringing forward new passages, blueprints and road maps by unconditionally loving and living our super consciousness.

Don't be left behind standing on the sidelines; envying what others have.

Get in the game...Leap into the life of your dreams. Start now by scheduling a reading, or an all encompassing aura, soul mission or vision quest portrait (all include full reading). Or take the first step for the advanced Ascension - Magnificent Me life liberating one on one program or group retreat. Ascension - Magnificent Me Guidance Series Details to leap into the life you desire.

Be Great...because you are already Magnificent!


Schedule Your Readingbr>
Half Hour Reading One Hour Reading

Download Your Free Gift


Eloryia (Heart Song) RA
Your Gifted Intuitive Guide who can pinpoint your real problems and provide easy and practical solutions.

Transformation Life Coach
Psychic - Intuitive
Radio Host
Published Author
Retreat Facilitator
Workshop Leader


Ascension-Magnificent Me
Guidance Series Details
Get Started with Ascension - Magnificent Me
A guidance series to create your
Heaven On Earth
"Eloryia RA has genuine insight ! Her talent is multifaceted and she is a true light and blessing in our world. Janet Faubian, Metaphysical Minister"

"This brings a depth of gratitude I can't express in words for your truly inspired and inspiring reading. Your insights and channeled information is exactly what I need right now to take me further into the unknown, trusting when I cannot see and do not know. I am ready to step more completely into the center of my mastery in a leadership role. I value the help your work presents as that time has now arrived and courage is called for.With the Holy Light of Love," D.W. Oregon.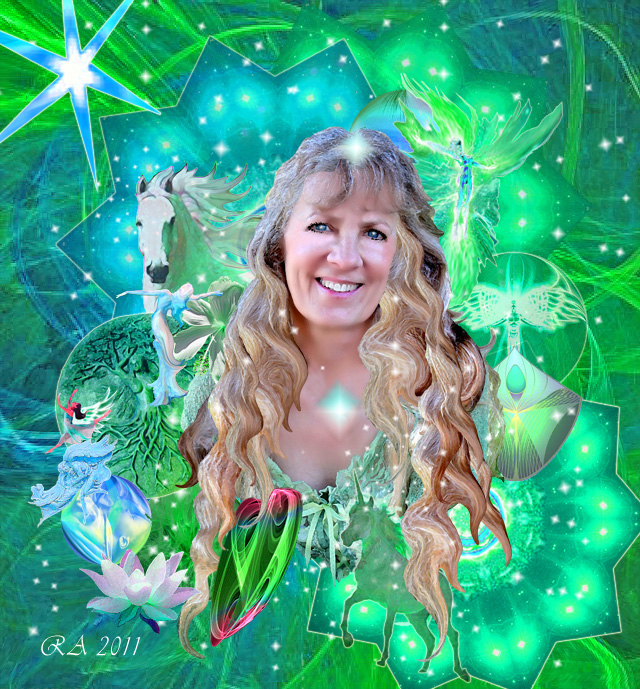 View Aura Portrait Gallery
"Words cannot express how grateful I am for my beautiful aura portrait and extensive reading and the video format is even more empowering. Thank you for being such a beautiful spirit. I am blessed that our paths have crossed." Love Your Star Sister, L.W. Colorado

"I know others will reach out to you just as I did for guidance in their journey of who they truly are. Thank you for your sweet and kind words that I know are coming straight from your open heart to mine. Tears of gratitude are flowing out of me as I read through the meaning of it. I am so touched and surprised at what it says about who I truly am. Please know that you are a gift to many. " With Love and gratitude, S. M., New Jersey.

"I am speechless - this is beautiful. I sensed instantly without even reading that I had truly been seen. I have read part or all of the reading every day since I received it and continue to absorb it all in. This morning I was in such gratitude because these portraits are such an exquisite mirror reflecting the deepest parts of ourselves we have known were there, and never allowed ourselves to bask in the beauty of. I used to look in a mirror and look deep into my eyes and say "I love you" - I saw my soul, but not the facets this portrait brings out." T.G., Oregon

"Thank you so much...This speaks to me more than any other reading I have ever had...I have no doubts that it is myself.", D.R.

"Thanks so much for the beautiful Totem Portrait & reading! As I was reading it, I was crying because it sounded so much like the truth! And thanks so much for this valuable information. I will re-read it again and again." Love, M. A

"Thank you for sharing your amazing gifts. Tears came to my eyes as I read your reading. I was simply filled with joyful emotion as I connected with my higher self unlike any other time before. As excited as I was to have this done, I had absolutely no idea that connecting with you would impact my life more than words could ever describe. Thank you for opening my Earthly eyes to my own Higher Self. With love, light and gratitude," CMY, New Jersey